Home
→ Camellia Sibirica with Rhodiola Rosea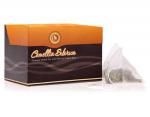 Buy
Camellia Sibirica with Rhodiola Rosea
# 500018 15 pyramid tea bags
Tonifying phytotea
Invigorating and tonifying effect of Rhodiola Rosea combined with powerful taste and fragrance of Clove and Green Orange will leave you with a pleasant feeling of warmth and energy for the whole day. Hand-picked whole parts of plants preserve all their powerful natural properties and original taste in this exclusive premium tea.
Recommended use
Steep 1 pyramid tea bag for 2–3 minutes in hot water. A second steeping for 4-5 minutes is recommended for a better taste and flavor.
Black Tea, Orange peels, hodiola Rosea roots, Schisandra berries, Clove.