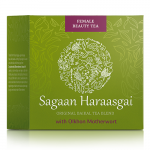 Buy
Food supplement Sagaan Haraasgai. Herbal Tea, 30 filter bags
# 500023 45 g (30 filter bags x 1.5 g)
The "Pure Herbs of Olkhon" Tea Blends and Food Supplements
The Sagaan Haraasgai dietary supplement is intended to strengthen the female organism and, translated from the Buryat language, it means "white swallow." According to Buryat legend, if a woman sees a white swallow, she will remain young forever.
Recommended use
Put 1 tea bag in glass of hot water for 5 minutes, adults take 1 cup 2 times a day during/after the meal.
Motherwort herb, lucerne herb, oregano herb, clover herb, peppermint leaves, melissa leaves, sage leaves, St. John's wort herb.
| | |
| --- | --- |
| 1 tea bag (1.5 g) contains: | Amount |
| Motherwort herb (Herba Leonuri cardiaca L.) | 300 mg |
| Alfalfa herb (Herba Medicago sativa L.) | 300 mg |
| Oregano herb (Herba Origani vulgare L.) | 150 mg |
| Red clover herb (Herba Trifolii pratense L.) | 150 mg |
| Peppermint leaves (Folia Menthae piperita L.) | 150 mg |
| Melissa herb (Herba Melissae officinalis L.) | 150 mg |
| Sage leaves (Folia Salvium officinalis L.) | 150 mg |
| St. John's Wort herb (Herba Hyperici perforatum L.) | 150 mg |