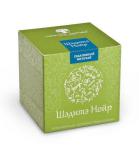 Buy
Dietary supplement Shedite Noir. Herbal Tea
# 500028 30 tea bags
Sleep phase tea with taiga marjoram
The Shedite Noir Sleep Phase Tea helps relieve stress and calm your body so that you can sleep well again and wake up full of energy.
Recommended use
Put 1 tea bag in glass of hot water for 5 minutes, adults take 1 cup 2 times a day during/after the meal.
Taiga marjoram herb, st. john's wort herb, valerian root, siberian motherwort herb, chamomile herb, peppermint leaves, lemon balm herb.