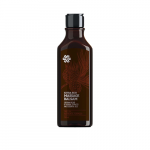 Buy
Siberian Wellness. Extra Rich Massage Balsam, 250 ml
# 409066 250 ml
This warming and tonifying extra rich herbal massage balsam with its distinctive aroma contains a unique and highly effective blend of powerful botanical ingredients and natural essential oils, which deeply penetrate the skin and help quickly recover even after a short massage.
2 essential oils, 13 botanical extracts
Recommended use
massage a small amount of the balsam onto desired areas in circular motion until completely absorbed.
For external use only. Not suitable for children. If you have a history of allergies to cosmetics, consult your health care professional prior to use. Store at a temperature from 5 °C to 25 °C. Best if used within 6 months after opening.
Pine resin, fir oil, eucalyptus oil, camphor, sea-buckthorn oil, St. John's Wort extract, birch polypore extract, hop extract, bergenia extract, oak bark extract, nettle extract, tormentil extract, coltsfoot extract, peony extract, clover extract, angelica extract, tumbleweed extract, thyme extract.