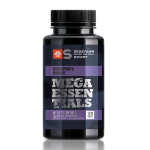 Buy
Siberian Super Natural Sport. Mega Essentials, 120 tablets
# 500284 120 tablets
The complex of 13 vitamins and 8 minerals will provide the body with essential nutrients, which are vital during vigorous physical activity. The product is enriched with complex of vitamins A, E, and C. Riboflavin (vitamin B2) helps to reduce fatigue and improve endurance, vitamins B6, B12 and pantothenic acid are essential for the normal energy metabolism. Manganese, calcium and vitamin D ensure perfect care for the bones. Copper and iodine contribute to maintaining a functional nervous system, iron facilitates rapid recovery, selenium supports the immune system, zinc normalizes carbohydrate metabolism, while magnesium helps to maintain normal muscle function. The complex of vitamins and minerals will help you to do sports with pleasure!
Recommended use
Adults take 2 tablets a day.
Calcium carbonate, magnesium citrate, microcrystalline cellulose (filler), vitamins C, A, D3, E, K1, B1, B2, B6, B12, nicotinamide, folic acid, pantothenic acid, biotin, zinc sulphate, copper sulfate, potassium iodide, ferrous lactate, manganese sulfate, sodium selenite. Tablet coating: polyvinyl alcohol, polyethylene glycol, titanium dioxide, talc, iron oxide, magnesium stearate.
| | | |
| --- | --- | --- |
| Ingredients | 2 tablets contain | % Daily Value |
| Calcium carbonate | 1025.7 mg | |
| Calcium | 402 mg | 50% |
| Magnesium citrate | 1000 mg | |
| Magnesium | 144 mg | 38% |
| Vitamin premix Н33802/1 | 280 mg | |
| Vitamin A (retinyl acetate) | 1.12 mg | 140% |
| Vitamin D3 (cholecalciferol) | 3 mcg | 60% |
| Vitamin E (DL-alpha-tocopherol acetate) | 6.88 mg | 57% |
| Vitamin K1 (phylloquinone) | 80 mcg | 106% |
| Vitamin C (L-ascorbic acid) | 117 mg | 146% |
| Vitamin B1 (thiamine hydrochloride) | 1.62 mg | 147% |
| Vitamin B2 (riboflavin) | 1.67 mg | 119% |
| Vitamin B6 (pyridoxine hydrochloride) | 2.1 mg | 150% |
| Vitamin B12 (cyanocobalamin) | 3.5 mcg | 140% |
| Nicotinamide (Vitamin B3) | 16.55 mg | 118% |
| Folic acid | 252 mcg | 126% |
| Pantothenic acid | 5.8 mg | 5.8 mg |
| Biotin | 133.5 mcg | 267% |
| Vitamin and mineral complex | 200 mg | |
| Copper (copper sulfate) | 1.4 mg | 140% |
| Copper (copper sulfate) | 149 mcg | 99% |
| Iron (iron lactate) | 19.4 mg | 139% |
| Manganese (manganese sulfate) | 1.15 mg | 58% |
| Selenium (sodium selenite) | 62.2 mcg | 113% |
| Zinc (zinc sulfate) | 12 mg | 120% |
| Vitamin B8 (inositol) | 0.2 mg | |
| Filler (potato maltodextrin) | 165.6388 mg | |
| Microcrystalline cellulose (E460) | 36 mg | |
| Tablets coating | 90 mg | |
| Polyvinyl alcohol (E1203) | 36 mg | |
| Polyethylene glycol (PEG 6000) (E1521) | 18.18 mg | |
| Titanium dioxide (Е171) | 16.02 mg | |
| Talc (E553b) | 13.32 mg | |
| Iron oxides and hydroxides (E172) | 6.48 mg | |
| Vitamin E | 30 mg | |
| Vitamin E (DL-alpha-tocopherol acetate) | 15 mg | 125% |
| Total Vitamin E | 21.88 mg | 182% |
| Magnesium stearate (E470) | 24 mg | |
| Vitamin D3 | 4 mg | |
| Vitamin D3 (cholecalciferol) | 10 mcg | 200% |
| Total Vitamin D3 | 13 mcg | 260% |
| Folic acid | 0.3 mg | |
| Folic acid | 300 mcg | 150% |
| Total folic acid | 552 mcg | 276% |